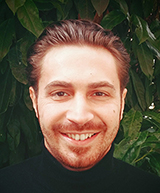 Facility Manager and Problem Solver, he achieved a degree in Management and Corporate Governance at the Faculty of Economics of the University of Florence.
In 2010,he worked in Prague at the management consulting society EBS Consulting pro IBC (Italian Business Center) partner, dealing with management Property and Facility management of properties located downtown.
He works as a journalist and photographer in the editorial department Project Czech Republic, a newspaper of geo-political that deals principally with the political/economic relations between Italy and the Czech Republic.
In 2011 he moved to Turin where he attended a Master in Real Estate, Regional Planning and Real Estate Market at Turin Politecnico, perfecting its technical and strategic expertise.
In 2012 he joined IL PUNTO team as head of Facility and integrated management.
He believes in teamwork and in the merger of professionalism. His main features are the operational readiness and excellent negotiation skills aimed at achieving the final result.